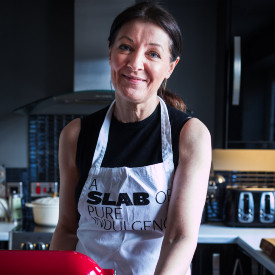 Lesley Bell SLAB bakery
Where did you get your passion for baking?
I do just have a sweet tooth! My parents grew their own fruit and vegetables in their back garden and my mum was always baking – she made the most amazing apple pies – so I grew up with a taste for homemade cakes and puddings. I love that baking is creative and you can make cakes and puddings from anything. Some work and some don't - my avocado cake is a hit with my customers but my kids wouldn't eat my black bean chocolate cake!
Why did you set up SLAB bakery?
I was diagnosed with wheat intolerance but found the puddings and cakes I could buy were always dry, contained a lot of sugar and didn't taste like 'normal' puddings, so I decided to bake my own. Friends and family started asking me to bake for them and suggested I turned my hobby into a business, which is when I approached a local restaurant with my sticky toffee pudding. I had a well-paid corporate job and was supplying a couple of local businesses when I decided to take the plunge and work on the business full-time. 

What makes you different from other bakeries?

One thing that makes us different is that I'm very careful about the ingredients I use. Not only do I want great taste, but I also want to use less sugar so I look for alternatives to sweeten the puddings such as dates, orange juice or good quality muscovado. I'm careful about making sure what goes out of the door meets those standards and don't compromise. People often have a misconception about gluten free cakes and puddings so I often don't tell people it's gluten free until they've tried it and they are surprised, which I take as a compliment.

What's the company best known for?

First and foremost, I think we're known for producing good quality cakes and puddings. When people see our branding they know they'll be getting a good quality product so even if they've not tried that particular cake before, they know they'll get something good.
I think we're also known for our great customer service – I've had really good feedback which I've been thrilled to receive. 
SLAB has a strong environmental ethos, tell us more about that.

I genuinely believe that making a positive difference to the environment is not about making big changes to your lifestyle, it's about us all doing a little bit to make a huge difference collectively. I'm conscious about the impact of my personal activities so all our SLAB packaging is recyclable, I recycle my production waste, I don't use palm oil, I only use free range eggs and, where I can, I use products from local suppliers. 

What do you love most about your job?

I love being challenged and with starting my own business I've certainly had a lot to learn. Although I work long hours, it doesn't feel like it because I'm doing something I enjoy. I really love getting out and about talking to customers, too. 

I also enjoy new product development as it appeals to my creative side and I love experimenting to create new recipes. Of course, this also means I get to eat a lot of puddings and my kids are kept very happy!

What's been your proudest moment at SLAB?

The first time I won a Great Taste award [for the orange and pistachio polenta cake] I was so thrilled because it was official, external recognition that the puddings were good. 

Why are you excited about the partnership with Creamline? 

Partnering with Creamline is a fantastic opportunity to work with a company that has great heritage and a great community ethos. I'm really keen to work with companies that share my principles, so Creamline is a good fit with their support for local businesses like mine, local charities and the environment – milk bottles are the original recyclable packaging, after all! 

I also really like the recipes section on the website and I'm a fan of the strudel! 

What's your favourite SLAB pudding?

This is a tricky one! I do absolutely love the sticky toffee pudding and it's good at any time of year: in the winter it's comforting and if it's warm you can enjoy it with a blob of ice cream or even put it on the BBQ. I've been known to have it for breakfast on more than one occasion! 

What are your top tips for gluten free baking? 

Most recipes for cakes and puddings can be converted easily to gluten free by switching wheat flour for gluten free flour. Most gluten free flour is rice flour based so it doesn't stretch and rise in the same way as wheat flour and is also drier. For most recipes you can use the same amount of flour, just add more liquid and extra raising agent and you can still make a cake that tastes great. 

Gluten free cakes tend to go from raw in the middle to overdone more quickly too, so keep an eye on the cooking time.