Creamline Charity Lottery
Creamline's Lottery - what's it all about?
Before the National Lottery was a glint in John Major's eye, Creamline launched a local lottery scheme with its doorstep milk customers, to raise money for local charities and good causes.
Fast forward 30 years and the Creamline charity lottery is still going strong, thanks to our customers.
Your lottery tickets have helped families across Manchester
As a company we've donated hundreds of thousands of pounds to local charities and paid out hundreds of thousands of pounds to customers.
By signing up and having fun with the Creamline lottery, you'll be supporting our principal charities, Francis House Children's Hospice and St Ann's Hospice, who provide respite, relief and support to Manchester families at the hardest time in their lives - as well as being in the running to win weekly cash prizes.
As well as supporting our principal charities, we've also helped a whole host of other initiatives, including the Salvation Army's work with the homeless in Manchester, Age Concern Salford and the Hope Hospital Brain and Spinal Injury Fund, as well as smaller community groups and schools.
What could I win?
Half of all the ticket sales are paid out in prizes, with a weekly draw of several £100 and £50 prizes and a 10 weekly larger draw with a top £1000 prize and then a number of £500, £250, £100 and £50 prizes as well. It might not allow you to re-locate to the Caribbean but you are more likely to win it and £50 in the post at breakfast isn't a bad surprise!
How can I sign up?
1 - Go to the "Lottery" page on your dashboard when logged in
2 - Joint the lottery scheme by choosing a number of tickets (draw numbers) 5 for a pound and set up a direct debit mandate (this is because online lottery ticket sales can no longer be paid for by credit card so we keep it separate from your normal shopping). For the duration of your membership there is a draw each Friday with small draws weekly and large ones every 10 weeks (you'll be billed each week and your payment will be collected separately from any normal basket shop on Daily Essentials after the end of each month. Please go to our Ts & Cs page to find out more
3 - Details of the lucky winners will be shared on Creamline's News page, with weekly prizes sent out in the post to the winner's registered address
"Thank you so much for supporting St Ann's Hospice, and we hope you will continue to support us for the foreseeable future, we would also like to thank all your customers on your behalf for their support in the purchasing of the lottery tickets, which you then pass on to St Ann's."
Margaret Beck, Community Events Officer, St Ann's
"Francis House is grateful to Creamline Dairies for their continuing support and dedicated service".
David Ireland, Francis House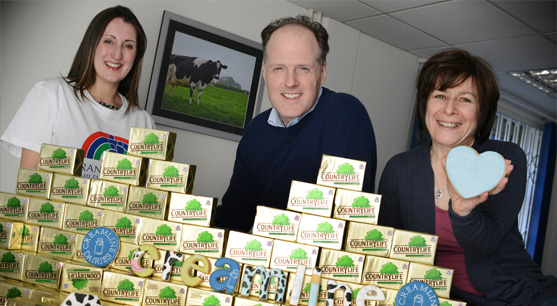 Creamline donation to Francis House bake sale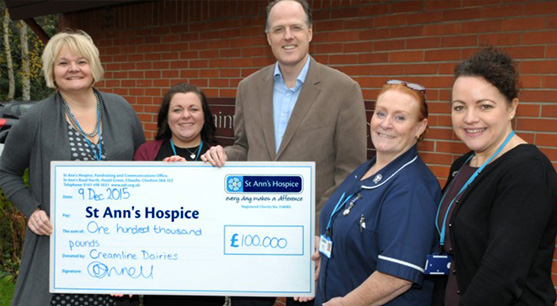 100K raised for St Ann's Hospice