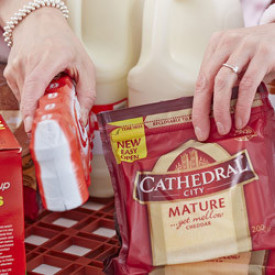 Nicola Morris, Clegg's Chilled Foods
A trusted supplier of Creamline Dairies, Clegg's Sales Manager, Nicola Morris, runs through the cheese supplier's transformation over the years, its future plans and how Clegg's stands out from the crowd.
Nicola, how long has Clegg's been supplying goods to Creamline Dairies?
Creamline Dairies and Clegg's Chilled Foods have been working together for around 10 years. We supply a variety of cheeses, so Creamline customers can pick and choose from the creamy Lancashire wedge to the mature Dewlay white cheddar or a delicious Cheshire - they're spoilt for choice!
How did Clegg's come about?
Clegg's was born from humble beginnings. Over 25 years ago it all started with one man - Mark Clegg- and his van, becoming a merchant of locally produced farmhouse cheeses. Nearly three decades on and Clegg's now employs 27 people, with Mark still at the helm.
What sets Clegg's apart from the rest?
Over the years Clegg's has built a loyal customer base and a reputation for excellent service- all of which has stood us in good stead.
We've always been dedicated to delivering food that doesn't compromise on quality or value for money- something our customers have respected. We also know the importance of producing good quality products from the local area- something that Creamline has also been committed to for years. We haven't rested on our laurels though and have continued to expand our products: now providing a comprehensive range of really good quality chilled foods- as well as making sure we invest in state of the art facilities.
What are your plans for the future?
We're really proud of our product offering and service. The ultimate aim is to continue to expand our range and provide an excellent offering. We're also committed to working closely with our customers, ensuring that companies such as Creamline can rest easy in the knowledge that we balance brilliant quality with affordable prices. If we deliver on all those fronts then we'll be satisfied!