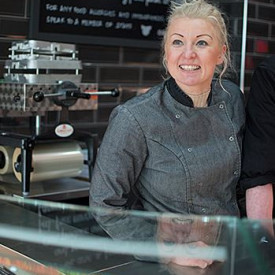 Rebecca Harrison, Little Pigs Butchers
We caught up with Rebecca Harrison, one of the three Little Pigs – our friendly family butchers based in Didsbury Village.
Why did you set up Little Pigs?
Mum and Dad had a butchers' shop in Goostrey when Sam, my brother, and I were growing up. So, it's in our blood! We helped out at our parents' shop - from the age of about nine they had us linking sausages after school and in the holidays!
When Sam moved back to the area, we knew setting up on our own was something we wanted to do – and chatting with people in the area, we knew there was an appetite for a butchers with a fresh approach in Didsbury.
Like Creamline, you're a family business...what's it like working with family? Can you explain the dynamics?
It's what Sam and I have always known, and now we're working with my husband Martin too – having survived our first Little Pigs Christmas together without a murder shows it's working well! Months and months after the event, I always look back at Christmas with relief: providing the starring ingredient of people's Christmas dinner is a massive responsibility, so once we've had feedback that everyone's been happy with their turkey I always breathe a sigh of relief!
What's the business' approach / outlook?
Our outlook at Little Pigs is a simple one: keep raising the bar in standards. We want everything about us to be the best: from locally sourcing the highest quality produce to being known for the best customer service.
It's also about mixing the best of traditional values with a modern approach. Something that makes our partnership with Creamline such a good fit!
When you opened the shop, what were the most important things you wanted to get right?
We wanted to be sure we pay attention to detail to all aspects of the business: from making the shop look lovely, modern and inviting, to being single minded in the way we work – for example dry aging our beef on the bone for the best taste and texture.
What's the best thing about your job?
I have huge job satisfaction and that comes from all the different areas I work across: from getting the right meat in, to preparing it properly and making it look enticing to customers. I love the friendly relationship we have with our customers – and hearing brilliant feedback always puts a smile on my face.
Where do you source your various types of meat?
We use Jacksons, which is based in Tabley, Knutsford for our beef, pigs and lamb. They work with a small network of local farms that rear only grass-fed, free-range animals. They're lovely people to deal with and are expert at what they do – like us it's in their blood – our parents worked with Jacksons too!
Chickens come from Gradons, who work with small Yorkshire farms, where a high level of animal welfare is guaranteed.
Do lots of customers ask where it comes from?
All the time! I think it's a real backlash from the '90s, when people's main priority was convenience and the big supermarkets ruled. These days there's a growing fascination with provenance and everyone's much more conscious of the quality of the food they eat. Being able to trace meat back to source definitely gives people confidence in quality as well as animal welfare.
Why do you think people like shopping locally?
People love that having a quick natter is part of the experience – and with that comes the trust, and the sense that we'll go all-out to give customers what they want, whether that's an unusual cut or the opportunity to pop in every day once they've decided what they want for dinner. We have some very loyal customers – who come in on a daily or weekly basis.
I'm really pleased that we can offer this personal, local service on a wider scale, adding in the convenience of home delivery, now we're partnering with Creamline.
What's your bestselling line?
Luckily there's a lot of love around for our whole range, but I think we're building a real name for ourselves with our beef – as the way we dry age it on the bone is so special.
What's your favourite dinner made from produce you can buy at Little Pigs / Creamline?
I love a good steak. Funnily enough, I eat more steak in summer as it's great on the BBQ. My favourite way to eat it is with a blue cheese sauce and a salad on the side. I also have a signature baked potato that makes the perfect accompaniment: scoop out the centre of the spud, mix the fluffy middle with crème fraiche and top with more cheese!
Why are you excited by the partnership with Creamline?
Creamline's a brilliant, family run business – there's definitely lots of synergy between our businesses and they're lovely to work with – I think we'll make a great team. I'm excited about being able to share Little Pigs meat with more customers around Manchester – and home delivery adds a whole new dimension!
Any tips for cooking the perfect steak?
Make sure the pan (or BBQ) is smoking hot. Season well, sear for 2 minutes on each side and leave to rest. Perfect!