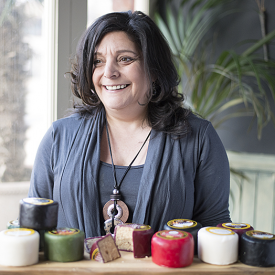 Ruth Bass, Cheshire Cheese Company
Ruth Bass of the Cheshire Cheese Company talks having fun with product development, and why she loves running a local business.
Can you tell us a bit about Cheshire Cheese Co's background?
The Cheshire Cheese Company was launched five years ago and it's grown from the directors' shared appreciation for great cheese. Just like Creamline, we believe in locally sourcing as many ingredients as possible, and the team's priority is simply making delicious cheese in our Cheshire hometown. Many of our cheese flavours have local influences - one of our customers' favourites - Old Hag, is made using Wincle Ale from the local brewery.
We love a good twist on a classic – and the resulting flavour combinations we're known for can often be quirky, but always tasty! Our latest creation, which is the result of memorable brainstorming and tasting sessions, is soon to be unveiled!
We're based in Macclesfield, just down the road really from our friends at Creamline.
What's the company best known for – and why do you think that is?
Very locally, we're known as the friendly faces of a local business that's working hard to quietly build a tasty reputation. I love hearing customers' comments about our cheese and I know we're especially well known for our caramelised onion and Rioja cheddar.
What do you most love about your job?
I love that it's born from my passion for cheese! The Cheshire Cheese Co is a completely new direction for me – I worked for years in HR for the NHS. I was so keen to do something where my entrepreneurial streak and love of great food could combine, and I like to think that in developing the Cheshire Cheese Co, that passion for my job and the business shines through! I really enjoy the variety that comes with working in a small business…from new product development to account management, every day brings something different.
Why do you think people are so interested in where their food comes from these days?
I think it's all about traceability which leads to trust. There's a definite growing fascination with provenance and that's probably got something to do with everyone leading such busy lives these days - it helps us feel connected to our food's roots and the local community, which has got to be a good thing.
If you were sitting down with a snack of cheese and biscuits, what would be your choice?
If I was feeling indulgent and in the mood for a treat, I'd go for Sticky Toffee Heaven! My go-to favourite though, is a traditional Cheshire cheese with a good dollop of chilli jam. With thirteen varieties of cheese, I'm spoilt for choice, and never get bored!
Do you try and shop locally a lot yourself?
I do, whenever I can. I live in Hale, so there's a great local high street, and I'm very keen on the idea of supporting likeminded businesses.