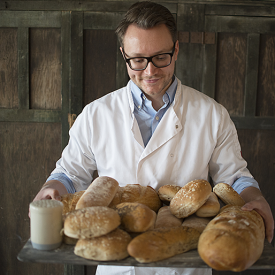 Ross Thatcher, Thatcher's Bakery
We caught up with Ross, a fifth-generation Thatcher – who is part of the family run Thatcher's Bakery, as he talks joining the business, what they're baking and teaming up with Creamline.
Thatcher's Bakery has such a rich history. Tell us more.
It certainly has! Thatcher's Bakery first started baking way back in 1891, in a two-up-two-down row house, in Stockport. The original founders were William Thatcher and his wife Francis Anne, who had started baking pies in a domestic oven before their plans got bigger and better, converting their house into a general store. In the early 1970's they relocated to the premises we still call home, sticking to their Stockport roots.
What made you want to join the family company?
As a kid, I was always interested in finding out what was going on in the bakery and that feeling never went away. I've been involved in the family business since 2009 but have played a more active role since 2014, after completing my business degree, but it's always been in the back of my mind to join the family business – despite my parents putting no pressure on me, it always seemed like a nice idea to continue the line and get to know the family trade.
What sets you apart from other bakeries?
I'd like to think that our quality always shines through. We've been going for over 120 years, so we must be doing something right to have stood the test of time. As a family business, we've got a massive amount of pride in what we create for our customers and that doesn't start and stop with me, it's the same for the whole team. I also work alongside my cousin James and another key team member is Gary, who has worked here for 30 years and cares about the business as much as the family does, which shows how committed he is.
As we sell a lot to other businesses, we know how important it is to get it right – so they feel proud to say they offer their customers baked goods from Thatcher's Bakery and that they can rely on us to get it right.
Are you working on any new ranges in the bakery?
At the moment we're having a back to the future moment, where we're looking back at what we've baked in the past, to celebrate our heritage and see which old favourites we can bring back – whether that's sourdough, which is now massively popular, or a new range of bloomers or boxed loaves. We're here to entice the generation of people who missed out on home loaves to reignite their love of bread and pastries.
Why do you think your bakery and Creamline are such a good fit?
As a company I think we have the same philosophy. We're both dedicated to making sure the goods we deliver and produce are of a really high standard and that the customer comes first. We've also got years of experience delivering food for wholesale businesses and making sure that homeowners get the same standards, delivering the best we have to offer straight to people's doors.