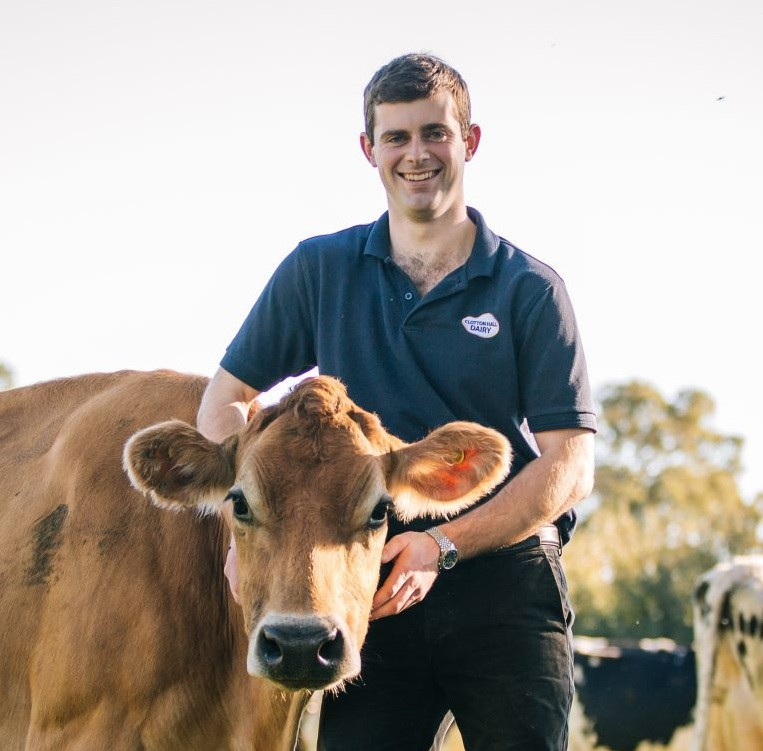 Henry Cooke, Clotton Hall Dairy
Henry Cooke is managing partner at Clotton Hall Dairy, the Cheshire-based family farm that specialises in creating luxurious dairy products. We spoke to Henry about Clotton Hall's development, and how best to enjoy a cream tea.
Can you tell us a bit more about Clotton Hall Dairy?
We've got a proud history that dates back six generations. Our history is steeped in traditional family methods and these days we're proudly producing luxury dairy products. We've got a variety of breeds on the farm, including Danish Red, Jersey and Holstein Friesians, with the herd grazing outside for at least 250 days of the year (depending on the great British weather!).

What do you love most about your job?
Managing the dairy has been great fun since I started back in 2017. Seeing our products stocked in stores across the country gives me a great sense of achievement, especially considering how much work it has taken to build Clotton Hall as a business. I also thoroughly enjoy new product development. Last year, we launched Fresh Luxury Custard, which has been a big hit. We have also nearly finished our Christmas range of products, which will launch in the coming months.

What's been your proudest moment at Clotton Hall Dairy?
Definitely the 2019 International Cheese and Dairy Awards in Nantwich, where our Cheshire clotted cream won the gold award. Beating all the competition was an unbelievable feeling and gave us a fantastic foundation on which to grow the business.

Why are Creamline and Clotton Hall Dairy a good fit?
I think it's because Clotton Hall Dairy and Creamline both like to support local businesses. It's great to see that the Artisan Dairy section of Creamline's website shows customers what local suppliers can offer beyond their usual shop. We care deeply about the welfare of the animals behind our products and that are products are available for the local community to enjoy, and to see that Creamline also prioritises this is really important to us.
Your clotted cream is delicious! What's your rule for the perfect cream tea – cream first, or jam first?
Firstly, thank you! It must be with a fresh, warm scone for starters. Mrs Darlington's Strawberry Jam on the bottom with an extra-large dollop of Cheshire clotted cream on top. Delicious!

Any plans to grow the herd or product range?
We are a young and enthusiastic team here, so we are always looking to grow with new and exciting products. As well as our soon to launch Christmas range, we also have a couple of ideas that we want to play with next year. One of the perks of being a smaller business is that we can react quickly to market trends and demands. It's certainly one of the reasons Clotton Hall Dairy is quickly becoming a customer favourite.