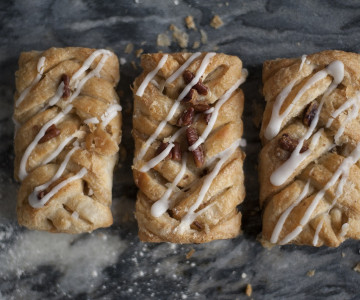 Whisky business: It's National Baking Week!
This week is National Baking Week – what a delicious prospect! Our obsession with baking shows is growing year on year, so if you want to get involved, this week is the perfect opportunity to get your hands floury.
At Creamline, we have everything a baker could need – eggs for that perfect meringue, milk for the creamiest custard, and cheese for a savoury treat.
Baking is a great way to keep kids busy and get them involved in the kitchen – ideal for next week's half-term break! Baking itself can be very therapeutic, and a great way to get creative. Not to mention the (hopefully) delicious end results!
If you 'knead' some inspiration, here are some delectable recipe ideas to get you started.
Ready, set, bake!
If you're looking for something a little different, this is a delicious alternative to a traditional apple crumble! You can order your fresh apples from us, straight from Manchester's Smithfield Market. Serve with ice cream or custard to complete the dish. 
Banana Bread and Butter Pudding with Pecan Nuts
A great twist on the traditional recipe. If you need to substitute the nuts, you could always try pumpkin seeds or raisins.
Orange and cinnamon shortbread
Delicious, buttery shortbread biscuits. These are a firm favourite – perfect as a mid-afternoon treat with a cup of tea! We've suggested a touch of citrus and cinnamon, to give them added flavour.  
If you don't have a sweet tooth, don't despair! This is a surprisingly quick and easy recipe from Great British Bake Off finalist Luis Troyano. These scones work perfectly with the bold flavours of smoked salmon. 
We hope you rise to the occasion and have fun baking! Of course, if you want to cheat, you can always try our Best of Local baked goods, from Thatcher's Bakery.
Share This
Related Posts