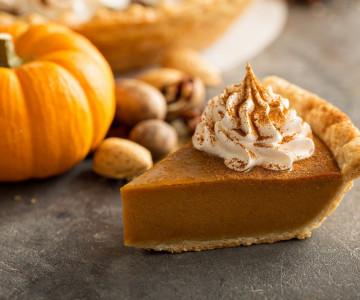 Seasonal Cooking: 3 Recipes for September
With Autumn fast approaching and Summer on its way out, it's time for… comfort food. And what better way to indulge than with dessert! We're big fans of seasonal produce here at Creamline, helping reduce food miles by opting for ingredients that are at their best this time of year.
Top of the seasonal list for September includes apples, pears and blackberries Here's our pick of 3 recipes that are definite crowd pleasers.
Apple & Cinnamon Strudel
Impress your family with this showstopping Apple & Cinnamon Strudel. Whilst it may sound complicated, it's really not. In seven easy steps you can have a slice of Vienna in your kitchen. https://www.creamline.co.uk/recipes/apple-cinnamon-strudel
Spiced Pear and Pumpkin Pie
Why not have a go at this Spiced Pear and Pumpkin Pie dish? This recipe is sure to get you in the mood for Autumn; it showcases all the best things about the season. What's more, it can be whipped up in just six easy steps. Easy as pie! https://www.creamline.co.uk/recipes/spiced-pear-and-pumpkin-pie
Autumn Blackberry Pie
If you're a fan of an autumnal pudding, then this pie is always high on the list. You can't go wrong with tradition, and nothing screams tradition like our Autumn Blackberry Pie. It's warm, it's fruity, it's delicious! https://www.creamline.co.uk/recipes/autumn-blackberry-pie
Team it with Longley farm jersey cream, available from Creamline's Daily Essentials range, for a match made in heaven.
Want to support local?
Head to Creamline's Best of Local range to pick ingredients freshly sourced from Manchester's Smithfield Market. 
Share This
Related Posts