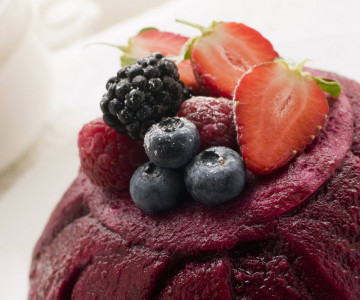 3 Seasonal Puddings for Summertime Treats
At Creamline we're passionate about eating seasonal produce and the benefits it can bring. From helping reduce food waste, cutting down carbon emissions generated from food transportation, and supporting local suppliers. Better still, seasonal foods are fresh and full of nutrients that can help us stay healthy all year round.
In summer, delicious fruits like blueberries, raspberries, and strawberries are all in season. While these berries can be enjoyed just as they are, we like to find creative ways to enjoy these seasonal treats. Check out some of our favourite recipes, which were created especially for Creamline, featuring these delicious summer fruits!
Summer pudding
Combining strawberries, blueberries, raspberries, this British pudding makes for a delicious summer dessert and is an easy way to enjoy your 5-a-day.
Get the recipe here.
Blueberry bakewell tart squares
A twist on a teatime classic, these bakewell tart squares perfectly balance crisp pastry with the sweet taste of blueberries.
Get the recipe here.
Strawberry shortcakes
These delightful treats are a perfect combination of light biscuits and sweet strawberries – the hardest part of this recipe is not eating every single one of them! Get the recipe here.
If you're not in the mood for baking, but still want to eat fresh British strawberries while they're in season, there's still time to enjoy them as part of our Summer Cream Tea bundle.
Ready to give these recipes a try? Get cooking with Creamline and share with us on Facebook, Instagram, or Twitter!
Share This
Related Posts