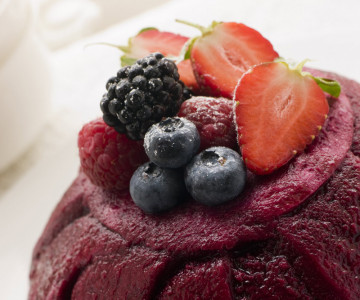 Seasonal Recipes: It's Time for Beautiful Berries!
We're huge advocates of eating seasonally here at Creamline – produce tastes better, and it helps cut down on food miles too! There is plenty of beautifully fresh fruit at its best in summer, so we've picked our original Summer Pudding recipe to focus on this week.

Click the links to add the ingredients you need to your next order!
Ingredients
For the sponge:
7g butter, plus extra to grease
3 large eggs, separated
175g caster sugar
180g plain flour, sifted
For the fruit:
150g blackcurrants
150g redcurrants
125g caster sugar
The finely grated zest and juice of 1 lemon
100g blackberries
100g raspberries
50g strawberries
Method

1. For the sponge, preheat the oven to 180C/gas mark 4 and grease a baking tin.
2. Melt the butter in a small pan over a low heat; set aside to cool. Using an electric mixer, whisk the egg yolks with half the sugar until pale and thick enough to leave a ribbon trail on the surface when the whisk is lifted.
3. In a separate, clean bowl, whisk the egg whites and the remaining sugar. Continue to whisk until the mixture holds stiff peaks.
4. Fold the flour into the yolk and sugar mix, a third at a time. Fold in the whites, a third at a time. Finally, fold in the butter.
5. Spread the mixture thinly and evenly in the prepared baking tin and bake on the middle shelf of the oven for 8-10 minutes or until the sponge is golden.
6. Place the blackcurrants and redcurrants in a saucepan with the sugar and lemon juice and cook over a medium heat until the fruit starts to release its juices. Remove from the heat and add the rest of the fruit and the lemon zest.
7. Line a pudding basin with cling film. Using pastry cutters, cut two rounds of sponge, one to fit the bottom of the basin and one the top. Place the smaller disc in the bottom of the basin. Now cut long, tapering strips of sponge and use to line the sides of the basin, overlapping them slightly and pressing tightly to ensure that there are no gaps.
8. Using a slotted spoon, place the fruit in the sponge-lined basin, filling it to the brim. Spoon the juices over the pudding and reserving a few spoonfuls for serving.
9. Lay the other sponge disc on top. Fold over the cling film to seal and place a saucer on top that just fits inside the rim of the basin. Weigh down with a tin (or something similar) and refrigerate.
10. To serve, fold back the cling film and invert the pudding on to a deep plate and serve with pouring cream or ice cream.
Share This
Related Posts