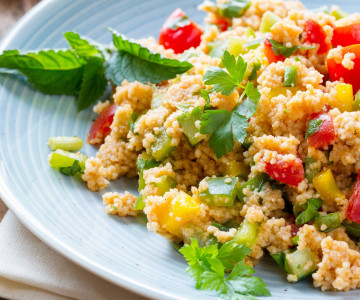 Get Cooking with Creamline!
Home-cooked food, you can't quite beat it but, it has to be said; it's hard to make simple, healthy and tasty meals that the whole family are guaranteed to enjoy. We thought we'd share a couple of new, nutritious and delicious recipes that we've been cooking up whilst in quarantine.

So, pots and pans at the ready, it's time to get cooking!
Roasted Mediterranean Vegetable Couscous
A scrumptious, healthy Mediterranean medley. It makes an ideal lighter dinner option, or you could even try this recipe as a side to a larger meal- it's sure to be a winner either way!
Method
1) Preheat the oven to 190°C / Gas Mark 5.
2) Chop the aubergine, sweet potato, Spanish onion and red pepper into small pieces. Place the chopped vegetables on a roasting tray, cover with the Kalamata extra virgin olive oil, crushed garlic and chopped chilli.
Full recipe here
Spicy Arrabbiata Spaghetti with Warm Oval Ciabatta
This easy and delightful spaghetti dish is ideal for a warm, hearty lunch.
Method
1) Heat the oil in a non-stick frying pan and cook the garlic for 1 minute.
2) Add in the tomatoes with 2 tbsp of water and cook for 5 minutes until the skins of the tomatoes start to split.
Full recipe here
We love seeing your Creamline- inspired dishes, so remember to share some snaps of your delectable delights with us via social media.
Share This
Related Posts