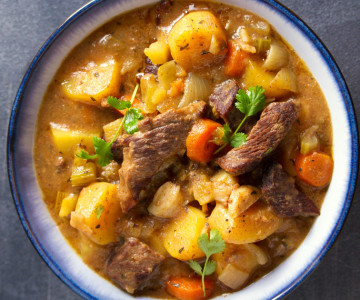 Embrace autumn and get cosy with some warming home cooking
There are plenty of unfavourable things to be said about 2020, but the good (largely – this is Manchester, after all!) weather has been one shining light in an otherwise miserable few months.
But as we dust off our umbrellas, boots and winter coats, it's not all doom and gloom ahead: there's a season of swapping warming sunshine for warming food to look forward to! What better way to spend our typically-Manchester soggy weekends than trying out some new recipes and enjoying home comforts?
Exchange the 'big light' for beautiful candles and get that toasty fire going, it's time to cook up a feast of delicious local produce from our Best of Local collection.
Here are some of our favourites from the cooking section of our website.
Chunky beef, vegetable and sweet potato hotpot
This delectable hotpot is the perfect crowd pleaser, with delicious root vegetables and expertly prepared beef from Little Pigs butchers!
Pork steak with cider and caramelised onions
A winning combination of sweet caramelised onions and cider, with expertly stunning pork steaks from Little Pigs butchers, for a delicious meal that's quick to make.
A perfect recipe for a hearty family meal, this Lamb hotpot would have given Coronation Street's Betty a run for her money. Serve with seasonal veg and a nice glass of wine, of course!
Quick and easy to make, this vegetable wonton soup is full of flavour and can be as spicy or as mild as you like it.
Potato, leek and bacon gratin with crispy topping
When comfort food is the order of the day, this potato, leek and bacon gratin certainly hits the spot. Its crispy leek topping perfectly balances the smoky, creamy tastes and textures. Yum!
Spicy arrabbiata spaghetti with warm oval ciabatta
This easy and delicious spaghetti dish is ideal for a warm, hearty lunch.
Share This
Related Posts