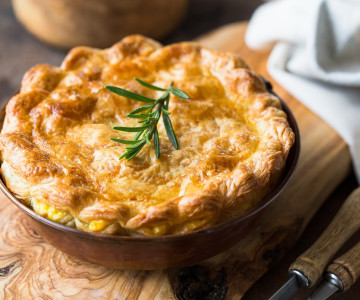 Discounts, Recipes and Cooking with Creamline
5-a-Day with £5 Off
 Reaching five a day can often be a tricky task, which is why at Creamline we're giving you a helping hand! To help you on your way, we're offering £5 off your fruit and veg box. This makes ordering some of our delicious market fresh fruit and veg just that bit more tempting! So whether you're making a summer smoothie or a hearty vegetable stew, you know what to do…
It's easy to claim your discount, just order a fruit and veg box from us and arrange delivery before 7th May l and the discount will be automatically applied to your order. See www.creamline.co.uk/terms for more information.

Nigel Brown – Broccoli, Potato and Cheese Crumble
We've been busy collaborating with our much loved chef extraordinaire Nigel Brown, who this week has been showing us a brand new recipe. This latest recipe combines loads of tasty ingredients that you can get delivered direct to your door from us – bacon, cheddar cheese, butter, milk, broccoli and potatoes. See the recipe video here for the full list of ingredients.
Treat your family and friends by sharing this with them. Plus, you can tell them that it's healthy too, because it's got loads of veg in it!

Catch Nigel at the Cheshire Show
We're happy to announce that we'll once more be at the Cheshire Show this year and whilst we want all of Nigel's delicious recipes for ourselves, he'll be there to share his cooking knowledge with you!
Nigel will be putting on a series of different cooking demonstrations to show you how to cook up a storm. He'll also be there to answer you cooking questions, so if there's a bit of culinary wizardry you'd like to know more about – come down and meet him.
He'll be helping us hand out some tasty samples too, so get down early. You can find us at the Creamline stall, at row C5, plot number 44-55. If you're not sure where that is, it's opposite the oak tree in the motor trade area. See you there! 
Share This
Related Posts