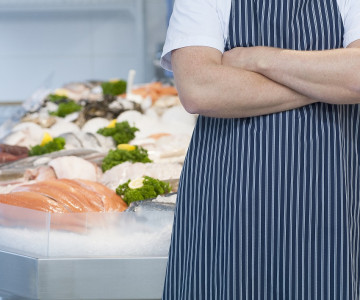 Dive in to our new fish range
The latest offering in our Best of Local range...we've teamed up with the finest fishmongers in the North West, delivering fabulously fresh fish to your doorstep, Tuesday – Saturday.
It's part of our ongoing mission to support local businesses, with our Best of Local range already including a handpicked selection of Manchester and Cheshire's very finest butchers, bakers, cheese specialists, grocery and fruit and veg producers.
From kippers to cod fillets and show stopping smoked salmon, we have a wide range of delicious new produce, exclusively sourced for Creamline. A high-protein, low-fat food, fish contains a range of important nutrients including omega-3 fatty acids – which help to keep your heart healthy – making it an essential part of a healthy diet.
Here are a couple of our highlights to reel you in…
These delicious prawns have been peeled, de-veined and are ready-to-eat! With fantastic texture, they are ideal as a starter or as part of a main dish.
A real treat, this one's for sharing! 1kg of prime Scottish smoked salmon, from the award-winning Severn and Wye smoker. They chip their own wood for smoking, which gives the fish a deliciously distinctive taste.
A firm family favourite. Caught in the North Sea, these chunky Scottish cod fillets have been expertly prepared by our local fishmonger, and have a great firm texture and sweet flavour.
If you need any more bait, you can head to our website now to enjoy 50% off our Best of Local range, when you use the code LoveLocal.
Share This
Related Posts