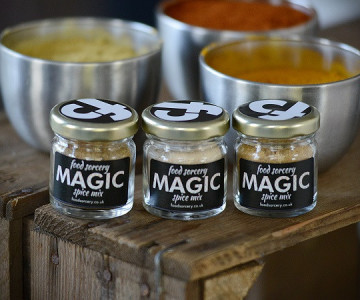 Introducing our new Recipes to Go range
We're always looking for ways to make your life a little easier here at Creamline. With our new Recipes to Go range, we've made mealtimes a doddle, with a host of original recipes that will soon become family favourites.
You'll receive beautifully fresh, locally sourced ingredients handpicked from our team of local producers. The recipes couldn't be easier to follow and have been specially created by Didsbury's Food Sorcery chef, with some handy tips and suggestions to help make your meal go further.
Here's what you can expect from the range:
Southern Indian roasted vegetables with warm bean & potato salad
Perfect for veggies or meat-free days, this is a versatile dish packed with fresh veg and authentic spices. Aubergine and sweet potato make this a hearty, filling meal – ideal for chilly autumn nights!
A kick of Mexican spice, from the comfort of your own kitchen! With hand picked fresh ingredients, including succulent chicken thighs from butcher Little Pigs, this is sure to be a crowd pleaser. Add cheese, avocado or lime for a little extra.
Middle Eastern minced lamb
Easier to cook up than you might think, this dish is a great alternative to chilli, and is perfect with jacket potatoes. With a special blend of spices, try garnishing your lamb with sour cream for the perfect finishing touch.
The Recipes to Go range is available for delivery to your door from Tuesday to Saturday. We'll also be adding to the range soon – so keep your eyes peeled! Happy cooking!
Share This
Related Posts