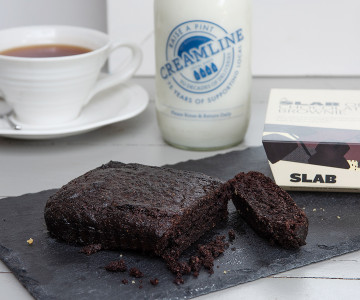 Treat yourself to a SLAB from our new range of indulgent cakes and puddings
We're excited to announce that you can now choose from a new range of lovingly handmade indulgent cakes and puddings from Didsbury's SLAB bakery, delivered straight to your door.
With coronavirus doom and gloom dominating the headlines again, SLAB's award-winning treats are perfect for a much-needed pick-me-up!
SLAB bakery is not only known for its ridiculously tasty range of cakes and puddings, but also for its environmentally-friendly packaging and quality ingredients – there are no nasties in sight!
Whether you can never say 'no' to an indulgent chocolate brownie, need the comfort of a smothered sticky toffee pudding or want to try something different with the light and fruity orange and pistachio polenta cake, there's something to suit everyone.
View the full range and order here.
More about SLAB bakery
Lesley Bell (the talented woman behind SLAB bakery) has held a life-long love of home baked cakes, growing up in a house where the smell of freshly baked apple pies was forever in the air. After being diagnosed with a wheat intolerance as an adult, Lesley was disappointed to discover that gluten-free cakes didn't taste anywhere near as delicious as their gluten-containing counterparts, something Lesley set out to change! With her creativity, determination to use only the best ingredients and a strong environmental ethos, Lesley eventually turned her hobby into a business and SLAB was born.
You can find out more about Lesley and SLAB bakery in our 'meet the producers' section here.
Share This
Related Posts