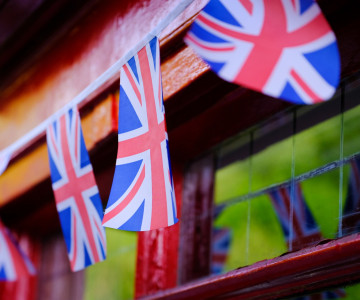 Celebrate the VE Day 75th anniversary with a social-distanced street party!
At Creamline, our community has meant the world to us for 75 years, so even in these challenging times we're looking for ways to come together and celebrate – all while keeping our distance, of course!

This Friday 8 May marks the 75th anniversary of Victory in Europe Day, with the bank holiday originally earmarked for national celebration events and acts of remembrance.
It's safe to say that 2020 hasn't gone exactly to plan so far, but in the true British spirit of keeping calm and carrying on, get your union flags at the ready because it's time for a street party! Ok, so a street party in lockdown may look a little different from usual, but you can still enjoy the celebrations with your neighbours in a socially distant way.
Your Creamline social-distanced street party itinerary
9:00am: Get the bunting up on your houses – front windows, guttering, even decorate the dog!
11:00am: Two minutes' silence on your doorsteps
11:15am: Aprons on, it's time to get baking! See below for some of our favourite ideas from the cooking section of the Creamline website.
3:00pm: The Nation's Toast – each head to your doorsteps to raise a glass of your chosen refreshment and toast with the nation 'to those who gave so much, we thank you'
4:00pm: You and your neighbours grab your picnic blankets or garden tables and head to your own front gardens, driveways or doorsteps: afternoon tea is served!
9:00pm After the Queen has addressed the nation, head back to your doorsteps for the nationwidesing-along to We'll Meet Again with the Royal British Legion
Baking ideas
Strawberry Shortcakes - nothing says 'British summertime' better than fresh strawberries and cream – enjoy with these scrumptious shortcake biscuits.
Blueberry Bakewell Tart Squares – a delicious twist on this British teatime classic, which almost looks too good to eat. Almost…
Treacle Tarts – there's no occasion when this classic treacle tart recipe won't go down a treat.
Chocolate and Cherry Cakes – you didn't think we'd leave chocolate off the list, did you? Combine with beautiful cherries and this recipe makes for a delightful afternoon tea addition.
Have fun but please do remember to follow the social distancing rules. For the latest rules, guidelines and advice, please visit the government website.

Share This
Related Posts