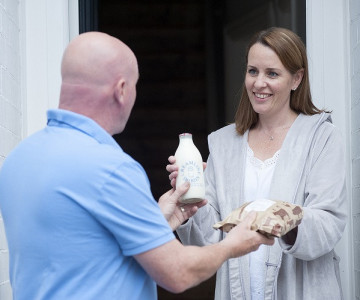 Treat mum this Mother's Day with our milk deliveries
Mother's Day is one of those occasions when it's often the thought and effort that counts the most, and our milk deliveries can give you some of the basic ingredients you need to whip up a treat for mum this weekend.
Check out our Recipes section for some easy breakfast ideas - such as a Watermelon Smoothie made with blended melon, banana, yogurt and ice, and garnished with mint.
It's a quick and simple recipe but it's also a refreshing way to wake up in the morning - perfect if mum's got a busy day ahead of her.
Alternatively, Eggs Benedict is a delicious breakfast and shows just a little more effort, especially if you make the Hollandaise Sauce yourself.
To do so, slowly trickle hot lemon and vinegar into egg yolks in a food processor, followed by melted butter (again, the full instructions are on our Recipes page).
Serve with poached eggs and bacon on toasted muffins, and mum's day is bound to start with a smile.
If these grocery essentials aren't in your shopping basket, we have dessert ideas too - such as pancakes, which are a seasonal treat around this time of year anyway.
A simple batter of flour, eggs and milk, sweetened to taste, means you'll probably have everything you need in your larder, especially if you receive eggs as part of your regular milk deliveries from us.
Share This
Related Posts