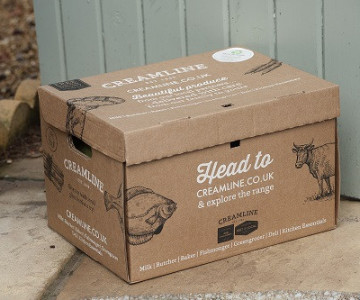 Celebrate National Milk Tart Day with your doorstep milk delivery
February 27th was National Milk Tart Day, and although the celebration only really takes place in South Africa, it's a great excuse to put your doorstep milk delivery to work and bake this traditional dish.
It's a simple tart - and for that reason, the quantities of some ingredients vary quite a lot between recipes - but here's our suggested method.
First, you'll need a tart base to fill later. You can either make your own pastry or, if you're not so confident, use ready-rolled puff pastry for a light and crisp base.
Apart from that, almost everything else you'll need are standard grocery essentials you can get in your doorstep milk delivery, and everyday baking ingredients.
For the filling, take a little cold milk from a pint, and mix into it a few tablespoons of cornflour and flour, along with a little salt and sugar.
Warm the rest of the milk with 2-3 ounces of butter and a cinnamon stick, combine with your cornflour paste and whisk until the mixture thickens.
Separate 3 eggs, and beat both halves separately with a little sugar - just enough for the yolks to be glossy, and the whites to thicken.
Fold everything together - remember to let the milk cool first, so you don't scramble the eggs when you add them - and pour into the base.
It should take about 20 minutes in a medium-hot oven for the pastry to turn golden brown and the filling to set - and then you have your South African milk tart ready to enjoy this national celebration!
Share This
Related Posts