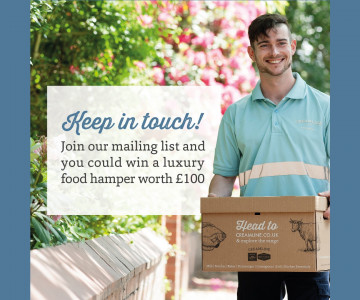 Join our mailing list before 30 June for your chance to win a luxury Creamline hamper!
At Creamline, we really enjoy talking to our customers, sharing our latest news and helping you get the most out of being part of our wonderful community.
We'd love as many people as possible to join our email mailing list and receive updates from Creamline straight to your inboxes. That's why this month we're entering everyone signed up to our mailing list the chance to WIN a £100 luxury Creamline hamper, as well as a £100 donation from Creamline to a charity of your choice!
What will you email me about?
Every month you'll receive our email newsletter, packed with updates about our product range and team of producers, as well as tips and recipes, and other exciting news from the Creamline world.
From time-to-time we'll also send you emails with special offers and incentives so keep an eye out for those too!
How can I sign up?
Signing up is easy – just head to this page and enter a few details.
Join before 11:59pm on Tuesday 30 June and we'll enter you into the prize draw.
I've already subscribed, can I still win?
Yes! Don't worry about missing out - if you're already subscribed to our mailing list we'll automatically enter you in the draw.
How will I find out if I've won?
We'll make the prize draw in early July and will contact the lucky winner by email soon after.
Good luck, and don't forget to sign up here!
Share This
Related Posts