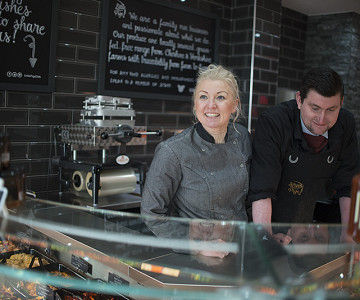 This National Butcher's Week, meet one of the three Little Pigs!
This week is National Butcher's Week, an occasion to highlight the brilliant work our local butchers do around the country. With that in mind, there's no better time to celebrate our very own Didsbury producers, Little Pigs - meet Rebecca Harrison, one of the three Little Pigs below!
Why did you set up Little Pigs?
Mum and Dad had a butchers' shop in Goostrey when Sam, my brother, and I were growing up. So, it's in our blood! We helped out at our parents' shop - from the age of about nine they had us linking sausages after school and in the holidays!
When Sam moved back to the area, we knew setting up on our own was something we wanted to do – and chatting with people in the area, we knew there was an appetite for a butchers with a fresh approach in Didsbury.
Like Creamline, you're a family business... What's it like working with family? Can you explain the dynamics?
It's what Sam and I have always known, and now we're working with my husband Martin too – having survived our first Little Pigs Christmas together without a murder shows it's working well! Months and months after the event, I always look back at Christmas with relief: providing the starring ingredient of people's Christmas dinner is a massive responsibility, so once we've had feedback that everyone's been happy with their turkey I always breathe a sigh of relief!
What's the business' approach?
Our outlook at Little Pigs is a simple one: keep raising the bar in standards. We want everything about us to be the best: from locally sourcing the highest quality produce to being known for the best customer service.
It's also about mixing the best of traditional values with a modern approach. Something that makes our partnership with Creamline such a good fit!
You can read the full feature with Rebecca (including how to cook up the perfect steak) here.
Share This
Related Posts