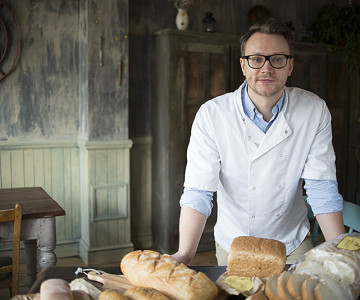 This National Baking Week, meet Stockport's Thatchers Bakery
One of our favourite weeks of the year, this week marks National Baking Week! It's a great time to get stuck in to some of your favourite recipes, especially if you've been inspired by the Great British Bake Off. We've got a range of recipes to try – one of our favourites is the bacon and tomato soda bread.
If baking isn't quite your thing, National Baking Week is a great opportunity to support your local baker too. As part of our Best of Local range, local baker Thatchers Bakery in Stockport supply us with a huge range of mouth-watering pastries, cakes and bread for you to enjoy! It couldn't be easier to support a local business, by simply ordering online with us and enjoying your favourite items direct to your doorstep.
Read on to hear more from our local baker Ross, a fifth-generation Thatcher, and find out more about the bakery and their products.
Thatcher's Bakery has such a rich history. Tell us more.
It certainly has! Thatcher's Bakery first started baking way back in 1891, in a two-up-two-down row house, in Stockport. The original founders were William Thatcher and his wife Francis Anne, who had started baking pies in a domestic oven before their plans got bigger and better, converting their house into a general store. In the early 1970's they relocated to the premises we still call home, sticking to their Stockport roots.
What made you want to join the family company?
As a kid, I was always interested in finding out what was going on in the bakery and that feeling never went away. I've been involved in the family business since 2009 but have played a more active role since 2014, after completing my business degree, but it's always been in the back of my mind to join the family business – despite my parents putting no pressure on me, it always seemed like a nice idea to continue the line and get to know the family trade.
Click here to read the rest of our chat with Ross!
Share This
Related Posts