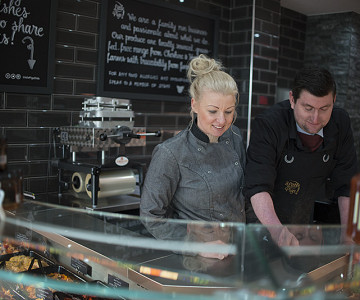 Raise the steaks with Little Pigs this National Butcher's Week!
Here at Creamline, we love working with local, artisan suppliers who really care about their produce. As part of our Best of Local range we bring the finest products straight to your doorstep - sourcing local ingredients and producers.
As it's National Butcher's Week, we're giving a shout out to our local Didsbury butchers Little Pigs - who also happen to be a family business just like Creamline. Spending school holidays linking sausages in their parents' shop, siblings Rebecca and Sam followed in their footsteps and set up shop together.
The benefits to shopping from your local butcher are endless – a shorter supply chain and locally-sourced produce, and from Little Pigs you can be sure of the finest premium cuts. As Rebecca says, 'these days there's a growing fascination with provenance and everyone's much more conscious of the quality of the food they eat. Being able to trace meat back to source definitely gives people confidence in quality'.
Little Pigs top picks
You'll be spoilt for choice with our Best of Local Meat Range, so we've handpicked a few of our favourite products:
Remember that you can order in direct to your doorstep with our Best of Local range – delivery is free and next-day.
Share This
Related Posts