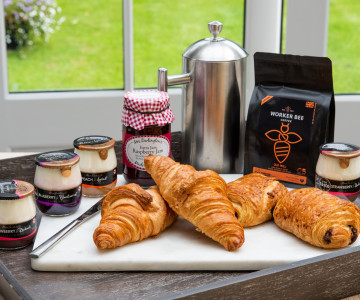 Dial up the flakiness this National Croissant Day!
When it comes to breakfast indulgence, there's one pastry-based treat that tops the rest: the croissant of course! And with National Croissant Day falling this Saturday, there's no better excuse than to stock up on the flaky, buttery breakfast treats.
You'd be forgiven for immediately thinking of our French neighbours when it comes to the croissant, but it's actually a little-known fact that they originated in Vienna, Austria. The kipferl dates back to the 13th century and is believed to be the first incarnation of the French croissant; a crescent-shaped sweet treat crafted from denser and less flaky bread.
By the turn of the 17th century, the croissant we now know and love was beginning to appear in French cookbooks, namely Le Pâtissier françois by François Pierre de La Varenne, where the first recipe for puff pastry was found.
But who does the humble croissant have to thank for its unique shape? According to one legend, it was created to represent the Islamic crescent moon after the defeat of the Ummayyad forces by the Franks in battle. Another legend attributes its popularity to none other than Marie Antoinette, who is rumoured to have christened her home country's kipferl a 'croissant'.
Whatever its origin, it's no secret that the croissant is one of the most popular and recognisable breakfast staples of many countries around the world, from Austria to Argentina.
Stock up with Creamline
When a trip across the Channel is off the cards, the delectable pastries by Stockport's Thatcher's Bakery can transport you from the comfort of your sofa! Try traditional fresh plain croissants, soft, fluffy and buttery, or treat yourself to a pain au chocolat, the ultimate piece of pastry perfection to start your day.
Bon appétit!
Share This
Related Posts