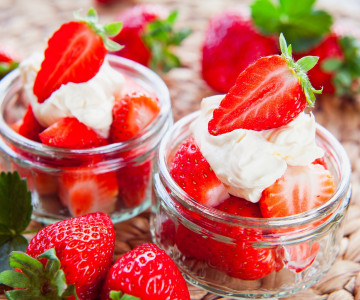 Serve up a treat this Wimbledon
As Wimbledon is in the thick of its second week, the championship is really hotting up! Last week saw the return of the oldest and, according to some, most prestigious grass tennis tournament. 6.4 million people tuned in to the Men's Final last year – if you'll be watching from home too, we've got just the thing.
Royal roots
With over 160,000 portions of strawberries and cream consumed on average each year at Wimbledon, it's the most popular snack at the tournament! But why is this the case? Legend has it that the tradition was started by Thomas Wolsey, a powerful member of King Henry VIII's court. Wolsey first served up strawberries and cream at a banquet at Hampton Court Palace; seen as peasant food by the upper class, it's not clear why dairy products were served at the King's court.
Historians believe that it was a simple matter of logistics. Entertaining around 600 guests at a time, and preparing over 44 courses was no mean feat, so a dish with minimal preparation would have been very appealing to the palace's kitchen staff! The palace also had a tennis court – where the delicious snack was served, thus linking strawberries and cream with the sport for centuries.
A courtside snack from home
If talk of the summer snack has set your taste buds tingling, head here to order your strawberries and cream pack. With 400g of beautifully fresh British strawberries, handpicked from Manchester's Smithfield market, teamed with locally sourced single cream, there's nothing quite like it! Order in before 14th July to take advantage of our special price at just £2.99.
Why not try some of our afternoon tea recipes alongside your strawberries, to make the perfect Wimbledon gathering? From mini quiches and smoked salmon scones, to Bakewell tart squares and macarons, we've got it covered. Let's just hope the weather holds out!
Share This
Related Posts