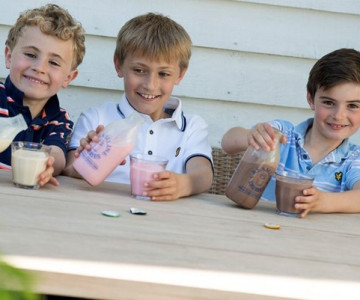 Raise a glass for World School Milk Day
We love to celebrate World School Milk Day here at Creamline! Held each year in September, World School Milk Day celebrates the health benefits of drinking milk and the success of school programmes around the world.
Although World School Milk Day has been celebrated since 2000, its history in Britain dates back to the 1906 Provision of Meals Act. The act meant that schools could provide food to undernourished children, so they could benefit from their education. This led to children receiving milk at school, a practice which has continued into the 21st century.

Why milk?
As well as being delicious, milk is a very nutritional food source. Filled with calcium, protein, and vitamins, milk provides lots of benefits for growing children.
For example, one 189ml carton of milk provides a 4 to 6-year-old with 100% of their daily vitamin B12 intake, which supports the production of red blood cells. It also provides them with 52% of the calcium they need each day, helping to strengthen their bones and teeth.
Milk is great for older children too; a child aged 7 to 10 can get 53% of their daily iodine intake from a single carton of milk, keeping their skin and hair healthy. Milk also provides 47% of the vitamin B2 intake they need each day, to support healthy digestion.
Creative ways to enjoy milk
Another thing we love about milk is how versatile it is! If you need inspiration on how to get more milk into your little ones' diets, check out our tips below:
Start their day with a bowl of wholegrain cereal and milk. For a breakfast that's filling, healthy, and delicious, look no further than Thatchers Rolled Oat Porridges.
If your little ones aren't keen on drinking it, why not out some recipes featuring milk instead? Our banana pancakes and strawberry ice cream coolers both feature milk as key ingredients and are lots of fun to make!
Share This
Related Posts