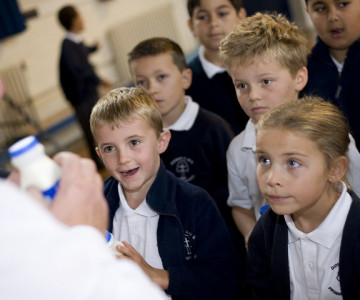 Creamline make milkman delivery to Didsbury school for World School Milk Day
One Didsbury school got a milkman delivery this week to coincide with World School Milk Day - but this time it wasn't milk delivered, it was the milkman himself.
Jon Ryan dropped in on Didsbury Church of England Primary School on September 23rd, the day before World School Milk Day itself, to give the pupils a head start on celebrating the occasion.
It also gave them the chance to get a sneak preview of Creamline's new video, which stars Channel 5 Milkshake presenter Olivia Birchenough and charts the journey of milk from its very beginning inside a cow, until it becomes the milk delivered to homes to be put on cereal or in tea.
The children had a chance to ask Jon any questions about milk delivery and why milk is good for you, and we hope this is one milkman delivery they will never forget.
World School Milk Day has been held each year since 2000 - long before these pupils were even born - and is a great opportunity to learn more about the importance of milk and of dairy products as a whole.
Share This
Related Posts