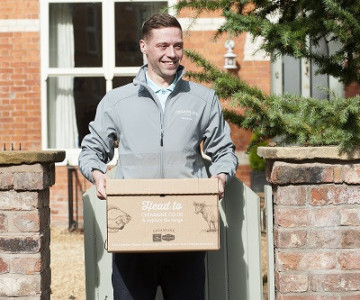 Put your best foot forward for National Walking Month!
  Did you know that May is National Walking Month? With longer and brighter evenings, it's the perfect time of year to take a stroll after work or school, and an easy, free way to keep active too.

Walking is great for your heart – and a brisk walk for just 30 minutes every day could reduce your risk of a stroke by 27%! It's also a full body workout, can lower your risk of dementia and boosts your vitamin D intake when the sun is shining.
A local mooch
Keen to get your walking boots on? All this month the Greater Manchester Walking Festival is taking place, with over 400 guided walks showcasing all the opportunities for a good stroll that Manchester has to offer.
This year marks the festival's fourth year, and last year's event attracted over 5000 participants! From Salford to Stockport, there are plenty of dates and locations to choose from.
Get energised with Creamline!
Every long walk needs some good fuel! Here are a few ideas from us that will help keep you energised this month:
Granola Bars – easy to pack and munch on the go, these bars are a delicious source of slow-release energy. Give our original recipe a go!
Bananas – the perfect hiking fruit! A healthy, instant boost of energy that the whole family enjoys. Try ours from the Best of Local range.
A fruit smoothie – quenches thirst and packs in a whole host of good nutrients! Easy to transport too, a reusable insulated bottle will keep it cool on your walk. Give our Watermelon Smoothie recipe a try for a refreshing treat!
Happy strolling – here's hoping the weather holds out!
Share This
Related Posts