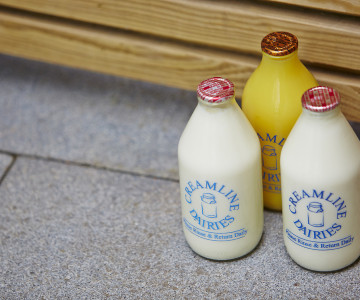 Get smiling & put your best foot forward in International Walk to School Month
October marks two awareness days that we think go hand in hand with one another: World Smile Day, this Friday, and International Walk to School Month.
Every October, International Walk to School Month sees primary school pupils from across the UK help children in over 40 countries worldwide to celebrate the benefits of walking to school. 
Meanwhile, here's a little background trivia on World Smile Day, which was coined by US artist Harvey Bell, who is known to have created the
smiley face
icon in 1963. The world's first World Smile Day was celebrated in 1999 and, since, it's been firmly established as an annual event.  With the message of: "Do an act of kindness. Help one person smile", we're behind this happy day every step of the way!
Walking releases endorphins, which trigger positive feelings and boost mood – so walking to school with the kids means it's easier to start the day the smiley way. 
We also think that the walk to school is a great way to connect to the local community, enjoy a bit of nature spotting and help the children appreciate the beauty of the world around us.  Next time you walk to school with your children, why not ask them what they can hear, smell and see?  The different perspective of children and the observations little ones make can be fascinating compared to an adult's view of the world.

Walking to school is also great to connect with people in your local area, who you might pass every day - from dog walkers to other parents on the school run, or morning joggers.  All it takes is a smile and a quick hello to put people in a cheerful frame of mind.
At Creamline we're big champions of supporting local communities and building a community that cares.  This love of local is one of the reasons we launched our Best of Local service which sees us partnering with independent artisan bakers, butchers, cheese-makers and Manchester's New Smithfield fruit and vegetable market.  We love helping our customers to support their local shops – with free delivery on us and the ease of ordering online.   There's lots to smile about!

Share This
Related Posts