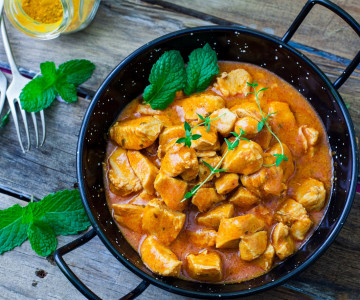 National Curry Week: It's Naan Joke!
This week marks the 21st annual National Curry Week, celebrating one of the nation's favourite and most versatile dishes! From Indian to Thai, it's a takeaway go-to for many of us, but here at Creamline, we're partial to cooking up our own, too! Read on for the lowdown on the delicious dish and tikka look at our recipe ideas – you'd be madras to miss it…
A 280-year-old love affair
The very first British curry reference appeared in a cookbook back in 1747, as part of a recipe including black pepper, coriander seeds, turmeric and ginger. Throughout the 19th and 20th centuries, the dish grew increasingly popular as a large number of South Asian immigrants arrived in the UK, in particular after World War Two.
Becoming one of the nation's favourite dishes, curry houses are now one of the most popular restaurants in the UK. In 2016, it was estimated that there were 12,000 of these restaurants employing a huge 100,000 people nationally. With the first National Curry Week celebrated back in 1998, many weird and wonderful records have been broken, including a dress made completely from poppadums…
Add some spice with Creamline
Heading to your local curry house is a delicious treat, but if you fancy getting stuck in yourself at home we've got a whole host of fresh, local produce to help you on your way.
Part of our Greengrocer range, freshly picked from Manchester's Smithfield Market, you can order in bunches of coriander, ginger, garlic and mint – must-haves for a delicious curry dish! Little Pigs Didsbury also have your meat options covered with boneless chicken thighs and diced lamb – not forgetting their Indian Mystery Kebabs to kick off your Indian feast!
If you prefer the hard work done for you, why not give our Keralan Coconut Fish Curry a try, as part of our Recipes to Go range? With all the beautifully fresh ingredients you need plus a step-by-step recipe to create the dish at home – you can't go wrong!
So grab your cookbook, spices at the ready and keep calm and curry on this National Curry Week.
Share This
Related Posts