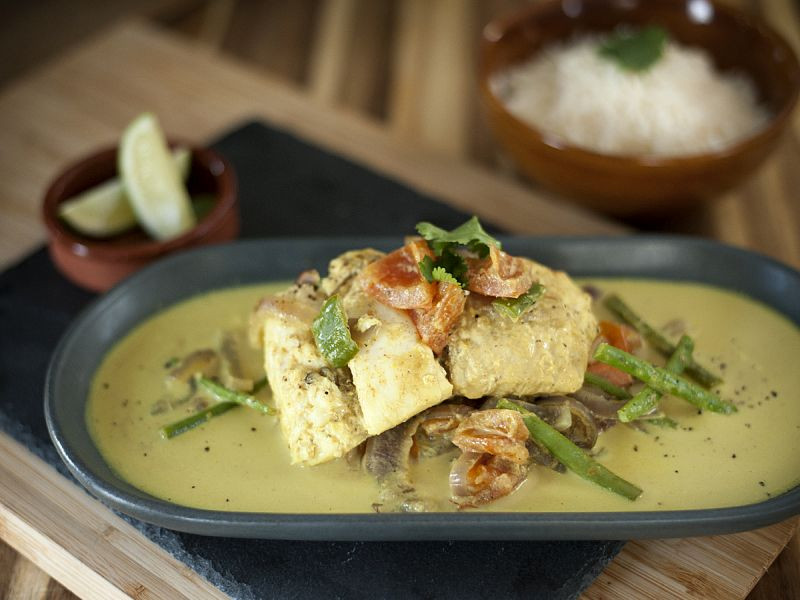 Product Details
Ingredients

This Recipe to go pack includes:
2 hake fillets
1 red onion
1 pot of Food Sorcery Southern Indian spice mix
2 fresh tomatoes
1 green chilli pepper
150g green beans
1 can of coconut milk
Vegetable stock
Allergen info

Recipe Allergen info:
Contains Fish, Celery & Mustard
May Contain: Nuts, Peanuts, Molluscs, Soya, Crustaceans, Cereals Containing Gluten & Sesame Seeds.
Storage instructions
See pack for storage instructions
Instructions for use
See pack for cooking instructions
Keralan Coconut Fish Curry
A delicious Recipes to Go dish packed full of flavour – we've handpicked locally sourced ingredients to bring all the essentials you need to create this meal, at the click of a button. The perfect recipe to use with our fresh Hake fillets, this is best served alongside rice or Bombay potatoes.
Each dish comes complete with a special blend of spices and a step by step recipe, created by Didsbury's Food Sorcery chef.
Serves 2 people
Prep 15 mins / Cook 15 mins
Price: £14.63
Share
This Recipe to Go pack includes the following Per Serving (serves 2):
24.3g

Fat

0.4g

Salt

1595.3kj/380.7Kcal

Energy

29.9g

Protein

13.3g

Carbohydrates

14.7g

Saturated fat
This Recipe to Go pack includes the following Per 100g:
4.2g

Fat

0.07g

Salt

275.1kj/65.6Kcal

Energy

5.2g

Protein

2.3g

Carbohydrates

2.5g

Saturated fat