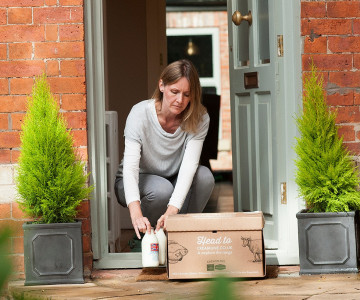 Keeping your New Year's resolutions on track with Creamline
Happy New Year! It's January which often means a fresh new start for many of us and New Year's resolutions lists aplenty. If you're someone who occasionally feels guilty for breaking one of these goals, you're not alone; around 80% of people who make New Year's resolutions have dropped them by the second week of February!
A way to help keep your goals on track is to make them achievable – think small steps, rather than huge changes! And whether it's healthier eating, making greener choices or shopping more locally, we're here to help you make positive changes this year.
Resolution number 1: Healthier eating
Probably one of the most common resolutions, choosing a healthier diet doesn't have to be difficult. In our Best of Local range, we offer fresh fruit, veg, salad, herbs and spices straight from Manchester's Smithfield Market. To help you stay on track and cook up different ways of introducing fruit and veg into your meals, try our Recipes section. Some of our favourites are Roasted Sweet Potato Salad and Watermelon Smoothie – yum!
Resolution number 2: Making greener choices
This one couldn't be easier with Creamline. By signing up for glass bottled milk deliveries, you could swap out a huge amount of plastic from your weekly shop. Our bottled are collected daily and reused, delivered wherever possible on our electric milk floats.
We're always looking for more ways to be greener – whether it's our plastic-free items or glass bottled juices and milkshakes, you can be sure that we're committed to being as eco-friendly as possible too.
Resolution number 3: Shopping more locally
We've been passionate about supporting local communities from day one. We source our Best of Local produce from artisan suppliers in Greater Manchester and Cheshire, so you can be sure that when you shop with us, you're shopping locally.
As well as this, we are proud to work with local dairy farmers within a 30-mile radius of our dairy in Eccles, so by the time your milk arrives on your doorstep, you can be confident it has clocked up the fewest 'milk miles' possible.
Share This
Related Posts