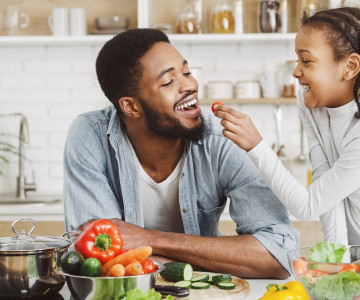 Need help sticking to your New Year's resolutions? Creamline has you covered!
January – a new year, and a new start! If you have made a few resolutions to take into the year ahead, you're in good company: 40% of UK adults intend on making resolutions for 2022.  It's no secret, however, that sticking to our New Year's resolutions is a lot harder than making them. In fact, approximately 64% of people abandon their goals by February. However, don't let this figure discourage you – with the right approach (plus a bit of help from Creamline), you can stick to your resolutions the whole year ahead. 
Be specific on your goals 
One of the most common reasons why people struggle with their New Year's resolutions is because they set goals that are too vague. By choosing a specific goal to work towards, it's much easier to understand how you will meet your new resolutions. For example, instead of resolving to eat more healthily, setting yourself the goal of eating more fruit and veg is a lot easier to understand and work towards – plus, you can easily arrange to have delicious, nutritious fruit and veg from local markets delivered straight to your door here. 

Make your resolutions work for you
New year's resolutions are intended to encourage us to change for the better. But the harder it is to make these changes, the easier it is to give them up. A simple way to ensure you stick to your new year's resolutions is to find ways to fit them into your daily life with minimal fuss. For example, if your resolutions include using less plastic an easy step towards this goal is to choose glass bottles for your milk, juice, and more. By switching to glass here, you can greatly reduce your plastic consumption. You can also have other plastic-free essentials, delivered straight to your door, for free! 
Keep track to stay on track 
Research has suggested that people who keep track of their progress towards their goals are much more likely to accomplish them. On top of that, keeping a record of how you progress towards your achieving your resolutions will allow you to look back on how much you accomplished in 2022. If you don't have a diary or journal just yet, don't worry! You can order your own special edition Dairy Diary straight to your doorstep here.  

Share This
Related Posts