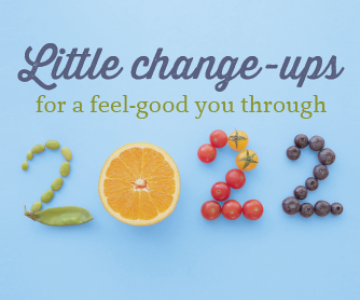 Introducing Creamline Change-ups: little changes to help you feel good through 2022
Small changes that make a big impact
We're excited to introduce you to Creamline Change-ups, our collection of little tips and hacks that can help you make small, positive changes with a big impact. Whether it's being heathier, greener, saving time or introducing some self-care, our Change-ups are here to help you make simple, sustainable changes.
Research shows that two in three people give up on their resolutions by January 31st. Not having enough time, trying to achieve goals alone, setting unrealistic expectations and giving up too easily are all reasons why we give up on our new year's resolutions. Our Change-ups are designed to provide simple tips for little long-lasting changes that won't feel like a chore.
Change-up your breakfast to fuel the day ahead
Thinking about how you fuel your body in the morning is hugely important as you've essentially fasted for 7-8 hours while asleep. Making some small changes to your breakfast can help sustain you until lunch, such as by swapping out sugary and highly refined breakfasts for nutrient-dense choices.
Keep an eye out later this month for more tips on how to make some small Change-ups to your first meal of the day.
Say 'enough' to plastic packaging (and see for yourself that milk from a glass bottle is tastier anyway)!
At Creamline, we don't believe plastic has to be a necessary evil. With over a whopping 21 million reusable glass bottles filled with fresh local milk in the past 12 months, our customers are already light-years ahead! If you're looking to make greener choices in 2022, cutting back on the plastic packaging in the milk you consume is an easy way to quickly make a difference.
And if you're looking to try something new in 2022, you can also have fresh Oato – the dairy-free milk alternative - delivered to your doorstep in glass bottles.
Change-up and get yourself some time back
Time pressures can easily lead to making more convenient choices that aren't necessarily the best choices for a healthy and happy lifestyle. By ordering fresh local produce online, you can save the time you'd usually spend in the supermarket, ditch the microwaved meals, and create your own hearty recipes with wholefood ingredients for the family to enjoy. Research has shown that eating food as close to its natural state as possible – unprocessed, nutrient-dense, and free of artificial additives – is key to optimal health.
With free delivery available multiple days a week, you can enjoy fresh produce straight to your door – and there's no need to waste time waiting in for your delivery either!
It's all about balance: Change-up and cosy up
Treating yourself, self-care and indulging from time to time is part and parcel of a healthy, balanced lifestyle. Our Change-ups 'cosyup' range is full of indulgent treats that can be enjoyed as part of a balanced lifestyle.
Where do we start with our sweet treats? We've got fresh butter croissants, made by local family bakery Thatchers, vegan and gluten-free sticky toffee pudding and orange and pistachio polenta cake, award-winning puddings and cakes from Didsbury's SLAB bakery, and luxury chocolate from Slattery family chocolatier, among many other delicious treats sourced locally.
Explore Creamline Change-ups by clicking here!
Share This
Related Posts