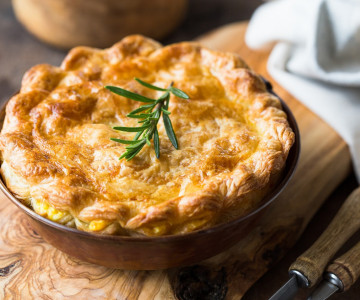 In British Pie Week we crust…
One of the most versatile of dishes, the humble British pie has been around for centuries! From breakfast to dinner, sweet to savoury, there is something for everyone. British Pie Week is all about celebrating the nation's love for the pastry dish, with restaurants across the UK getting involved. But where, when and how did this dish originate?
A life of pie
Back in the day, travellers' food needs would usually be met by an accompanying cook or chef. However, this extra person took up space and resource, so the need for a food that was easy to carry, easy to store, and long-lasting arose.
Pies have cropped up across the globe over the years, and their incarnations have been varied. The Ancient Egyptians made galettes – a kind of flat, round crust – but Ancient Greeks are widely credited with inventing the pastry we know and love today.
Since then, pies remained a staple food source for travelling and working people, especially in northern European countries, where the weather is cooler.
A slice of the action
Keen to get involved and bake your own piece of pastry perfection this week? There are hundreds of recipes you could try, so we've handpicked our top few:
Steak and ale – the absolute British classic, it doesn't get much better than these Prime Diced Steak chunks, hand-prepared by Little Pigs butchers.
Squash, gorgonzola and rocket – take inspiration from the Greeks for this satisfying plateful! Ideal for meat-free days, order in your butternut squash and rocket from our Greengrocer range.
Autumn Blackberry Pie – a Creamline original recipe, we call this an Autumn pie, but there's no reason it can't be enjoyed year-round! Add a good dollop of ice cream for an indulgent treat.
Don't forget that you can order most of the above ingredients and many more delicious pie fillings from our Best of Local range, and enjoy free, next-day delivery.
Share This
Related Posts