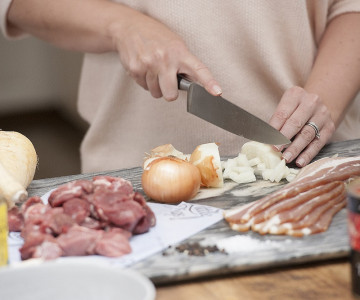 Give 2018 a healthy kick start with Creamline
Gifts have been exchanged, champagne toasted, mince pies scoffed and the turkey is long gone. After December's indulgence, it's no surprise that health and fitness usually top the charts when it comes to new year's resolutions.
A diet overhaul may seem slightly daunting, but with Creamline's delicious range of fruit, veg, meat and more, choosing the healthy option has never been so easy! Read on for our top tips on how to boost your diet this January.
Eat plenty of fruit and veg
Now this one may seem like a no-brainer, but with just one in four adults eating their five a day, there's room for improvement! Our Best of Local Greengrocer has a huge range of fruit and veg, all deliciously fresh from Manchester's Smithfield market. Choose avocados for healthy unsaturated fat, and blueberries for a fruit rich in antioxidants.
Protein, protein, protein
Protein is vital when it comes to helping the body look after itself. Meat is one of the best protein-rich foods – try our freshly prepared chicken for a leaner, less fatty meat. For the veggies among us, eggs and pulses are important sources of protein.
Don't miss out on breakfast
The most important meal of the day! Breakfast foods are a great source of important vitamins, and a healthy breakfast helps stop you overeating later in the day. We have plenty of breakfast recipes to inspire you, including a porridge pick-me-up and granola bars. If you're someone who struggles with a morning meal – why not try our watermelon smoothie recipe to get those all-important nutrients.
Share This
Related Posts