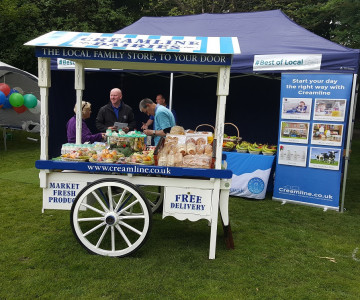 Creamline Kickstarts Summer Roadshow
Roll up, roll up, Summer is here and we cannot wait to get back on the road. Celebrating all things local, we'll be heading to events across Manchester – to show you what tasty treats Creamline has to offer, from independents shops you love to our Cheshire milk.  Fresh from the Didsbury Festival last weekend, we're looking forward to the months ahead, more fun and games planned along the way. This year we cannot wait to introduce you to our new Best of Local range, along with some tasty samples.  
The Didsbury Festival:
The first stop on our tour was the home of our local butchers, Little Pigs. The rain may have poured, but it didn't dampen our spirits.  The crowds were out in full force and we kept them entertained with our milk bottle skittles and treasure hunt. Over at the stand was an array of fresh fruit and veg, along with some tasty Thatcher's Bakery pastries, as well as Creamline's milk – fresh from the Cheshire plains. 
What's On:
New to Creamline this year is our Best of Local range. The team will be tantalising your taste buds with delicious offerings, from creamy cheese from The Cheshire Cheese Company, to Thatcher's buttery pastries and fruit nibbles from Smithfield's Market, you can see what we are all about.
We also have our resident chef, Nigel Brown, who will be delighting us with a series of cookery demonstrations, giving you and the family some great recipe ideas for the Summer, using Creamline's Daily Essentials and Best of Local range.
We're also back with our milk bottle skittles and face in the wall board. Don't forget to grab a great picture alongside the Creamline pantomime cow and our vintage float. You also have the chance to win one of two stays in the gorgeous serene Lake District. Just pop by the Creamline stand at one of our events and fill out the competition form.
Next Stops:
Want to pop by and say hello? We have several stops on our Summer tour, making our way across the county. You can catch us at one of these events or all of them!
Cheshire Show - 20th & 21st June 
Bramhall Festival - 24th June
Beaver Road School Fair - 25th June
Hale Barns Carnival - 15th and 16th July
We look forward to seeing you there. If you are popping over to say hello, why not send us a tweet so we know to look out for you @creamlinedairy. 
Share This
Related Posts