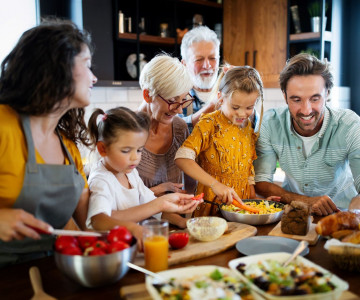 Feast without fuss this Father's Day
Father's Day is fast approaching and, with our social lives slowly returning to normal, there is no excuse not to celebrate! Whether you're having Sunday dinner with all the family, or simply popping in for a long-awaited hug and a cuppa, we've got everything you need for a memorable day with Dad.
All the trimmings
Sunday roasts are a Father's Day classic for a reason. For expert cuts of high-quality meat, you can't go wrong with our Best of Local range, supplied by Little Pigs butchers. Our favourites include the wonderfully tender Half a Leg of Lamb Special (which comes with a tangy mint sauce), and the succulent Cheshire Beef Prime Topside Joint, matured for at least 28 days to ensure the richest flavours.
Of course, a roast may not be for everyone. For a Father's Day dinner that skips convention without compromising on flavour, why not try our original recipes? Our Chunky Beef, Vegetable and Sweet Potato Hotpot or Pork steak with Cider and Caramelised Onions are easy to make and perfect for a celebratory dinner with a difference.
Just popping in?
If you can only manage a quick visit to Dad or Granddad, then why not treat him to afternoon tea? Thatcher's have plenty of indulgent goodies to choose from. We love their fluffy Cherry Scones (served perfectly with Cheshire Clotted Cream) and their rich Chocolate Shortcake Slices!
It's the thought that counts
If you have an 'absolutely-no-fuss-thank-you' kind of Dad, a simple but thoughtful gift can be a great way to show your affection. Worker Bee's tea and coffee range, a truckle from The Cheshire Cheese Company, or a homemade preserve are great gifts for even the fussiest Dads this Father's Day.
Share This
Related Posts