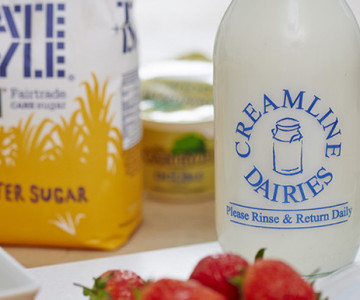 Get extra milk delivered for Father's Day feasting
Don't forget to get extra milk delivered in the coming days so you've got plenty in your fridge for Father's Day, as it's the perfect excuse for some indulgence. Of course it's all in Dad's honour, but that doesn't mean the whole family can't enjoy some treats - it's a family occasion by definition, after all.
 For breakfast, pancakes are always a delicious option; fling some flour in a bowl, crack in an egg and stir together with milk to make a smooth batter, then fry it up and enjoy with a sprinkling of sugar or grated cheese if you prefer them savoury.
Health-conscious dads might prefer to steer clear of fried batter for breakfast, but you can put your home milk delivery to good work splashing it on cereal or making a fresh fruit smoothie. Or if you're planning an evening meal, don't forget dessert or Dad will never forgive you!
Get an extra pint or two of milk delivered and whip up a batch of homemade custard; add some soft cheese to your order for a cheesecake; or of course, a tub of cream is the essential starting point for a refreshing ice cream.
And If you're stuck for ideas on how to make this Father's day extra special, why not view our range of delicious recipes for inspiration
Share This
Related Posts