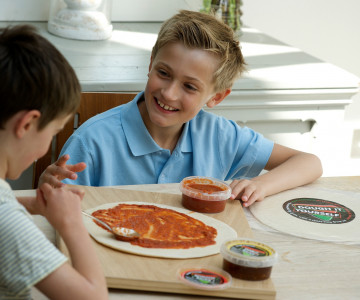 BACK by popular demand: our perfect pizza bases!
Back by popular demand, our delicious pizza bases by Stockport's Dough It Yourself are now in stock!
The perfect lockdown lift, one of these pizza packs will transform your kitchen into a bustling pizzeria in no time. Ideal for getting mini chefs in the making involved, creating your own Italian masterpieces is a doddle with these pre-made doughs and sauces.
Dough It Yourself source the best possible ingredients for their mouth-watering packs and hand craft their products in their Stockport bakery. The sauces have been perfected over time and the bases are rolled, par baked, cooled and sealed – never frozen, so you can be sure that your pizza is off to a fabulously fresh start!
Ready to grab a pizza the action? Here are our favourite topping ideas:
The classic – nothing beats an iconic margherita! Stock up on plenty of mozzarella, and don't forget the fresh basil for the finishing flourish. These toppings are best suited to the Romana Sauce pack.
Spicy pepperoni – one for the meat lovers, pair spicy pepperoni slices with green peppers and chilli! Try these ingredients with the Diablo Sauce pack.
Ham & mushroom – with a twist! Ham and mushroom is a go to, but why not try adding artichoke and olives to give an extra kick of flavour?
Your chance to win!
Fancy showing off your culinary creations for a chance to win a bundle of Italian goodies? Tag us in snaps of your pizza perfecta with us on Twitter, Facebook or Instagram to get involved!
Share This
Related Posts