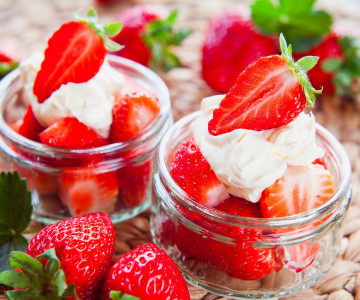 A right Royal knees-up
For anyone who's a fan of the royals, there's only one thing on the agenda this month! The Royal Wedding of course. The big day will take place a week on Saturday at St George's Chapel at Windsor Castle, with around 600 guests set to attend the ceremony.
Windsor Castle has played host to many royal weddings in the past – including the blessing of Prince Charles and Camilla Parker Bowles and the marriage of Prince Edward and Sophie Rhys-Jones. The royals have been trendsetters in many other areas too – Queen Victoria sparked the tradition of the white wedding dress, as well as wedding cake figurines!
If you're thinking ahead to the 19th, a Royal Wedding party may be on the cards! You're in the right place – we've picked out our favourite recipes to help you throw a thoroughly regal event.
Nibbles for the nuptials
We'd suggest an afternoon tea theme for a Royal Wedding celebration! We've got a selection of delicious recipes and Best of Local treats to help you lay a spread Her Majesty would be proud of.
·        Smoked Salmon Scones – this quick and easy recipe will add a touch of luxury to your royal buffet! Deliciously savoury, they're a great alternative to sandwiches.
·        Broad Bean, Pea and Asparagus Quiche – this recipe make a bite-sized treat and is bursting with fresh vivid green.
·        Strawberry Shortcakes – the perfect summer treat! A great mix of biscuit and fruit, be warned: these are dangerously moreish!
·        Best of Local Bakery – if you're all baked out after these recipes, why not let Thatcher's Bakery do the rest? We've got a truly special selection of treats in our Best of Local range, from flapjacks to choc chip muffins.
We hope your party is a success. Cheers to the new royal couple!
Share This
Related Posts