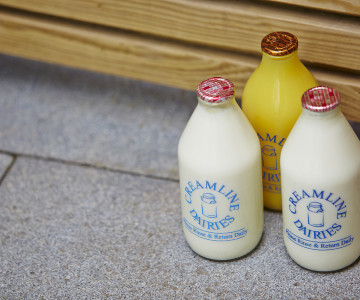 Creamline pulls out all the stops for this year's Royal Cheshire Show
Always a highlight of the Creamline calendar is the Royal Cheshire County Show, taking place on the 21st and 22nd June.
For the third year running, we're proud principal sponsors of the Main Ring. It's a great way of meeting local people, Cheshire farmers and Creamline customers, as well as introducing people to the Creamline offering– so we're looking forward to giving visitors a warm welcome!
What to watch out for
We've planning some eye catching activities, including our new face in the wall board, so you can get some great family pictures to remember the day.
Our much loved celebrity chef Nigel Brown will also be returning, hosting a series of cookery demonstrations. Visitors should watch out for a selection of tasty treats, conjured up from Creamline's range of store-cupboard staples, which will be handed out by our helpers, as well as taking a look at the fruit and vegetable range – along with Creamline's vintage float and cart.
We're also giving visitors to the stand the chance to win a relaxing retreat worth £500, treating you to a luxury stay in the destination of your choice.
Cheshire Show – A Little History
The Cheshire Show is steeped in history and as a company over seventy years old ourselves, we place a lot of value on heritage.
Starting an amazing 175 years ago, the Royal Cheshire County Show has been a fixture of the summer time events in the North West ever since. It was earlier this year that the Cabinet Office officially gave the show the title Royal for the first time – recognising its importance to agriculture and the area.
Come and Say Hi
We'd love to see you at the Cheshire Show, so if you're planning to come down on either 21st or 22nd June, then remember to stop by Creamline's stand. You'll find us on Row C5, stand 44 & 45 – close to the main ring.
Tickets are available from  www.cheshirecountyshow.org.uk

Share This
Related Posts