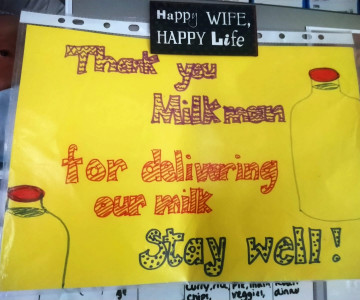 Your kindness has mattered to us: Mental Health Awareness Week
This week (18-24 May) is Mental Health Awareness Week and as part of this year's campaign, the Mental Health Foundation is encouraging people to carry out, share and celebrate acts of kindness.
At Creamline, we've been delivering milk to Manchester doorsteps for 75 years and as a family business, we've been proud to support the local community in this time. Despite the last couple of months being testing at times, it's been a privilege to do what we can to support the communities we serve. The kindness of our customers has kept us going, even on the longest and busiest of days!
With increased demand for services, our team have been challenged with managing more deliveries, larger orders and longer hours, on top of the expected personal stresses a global pandemic brings.
In these difficult times, our wonderful customers have lifted our team – from thoughtful notes left with your empties, to comments full of gratitude on social media and charming pictures from your children! We really appreciate every one of your messages.
Matthew, our milkman in the Trafford area, is one of the many people in our team who have been touched by your kindness:
"It's been amazing to see how many people have been in touch recently to let us know how much they appreciate our deliveries. As key workers, we are really proud to be supporting our communities at the moment, but like so many other people across the country, the coronavirus has had a huge impact on us.
"Comments from our customers are printed weekly on posters in our depots and seeing these and the kind notes and drawings left for me on my round really does brighten my day. I've even given them pride of place on my fridge at home!"
Despite having your own worries, you have taken time to get in touch with us and your little acts of kindness have given our team members a much-needed boost – thank you!
You can share your own kindness stories this week, using #KindnessMatters and #MentalHealthAwarenessWeek
Share This
Related Posts