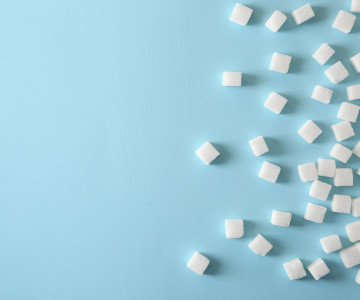 Sweet tooth? Time to rethink this Sugar Awareness Week!
Sugar Awareness Week is all about looking at how much sugar we consume – according to Action on Sugar, just seven teaspoons a day can take their toll! Of course, we find naturally occurring sugars in fruit, vegetables and milk-based products, which are not considered harmful for health. Action on Sugar argue that 'free sugars', when consumed in excess, are the worst culprits; these are most commonly found in sweets, cakes and biscuits.
So how do we cut down on our sugar intake? We've got some handy tips and tricks that you can incorporate into your daily routine – read on to find out more…
An easy one to start with – stop adding sugar to your daily brew. By doing this, you could save 90 teaspoons of sugar in 3 months, which equates to 1440 calories!
Cereals can be some of the sneakiest offenders! Try swapping in plain porridge or plain shredded wholegrain cereals – if you're still craving that sweetness, add in some dried fruit or chopped banana instead!
When it comes to snack time, treats like biscuits and chocolate could be swapped for rice cakes. Just as delicious, with way less sugar!
Simply try and cut down. Instead of larger, sharing bags, opt for smaller portions of your favourite treats.
Try and avoid pre-made sauces – and get stuck in to making your own! Often pre-prepared jars of pasta sauces for example contain added sugar. With our fresh herbs and spices, it couldn't be easier to add delicious kicks of flavour in replacement of the sweet stuff!
Don't forget that we have a host of deliciously fresh fruit and veg as part of our Greengrocer range, to help you meet your 5-a-day without those free sugars! Browse the range here.
Share This
Related Posts