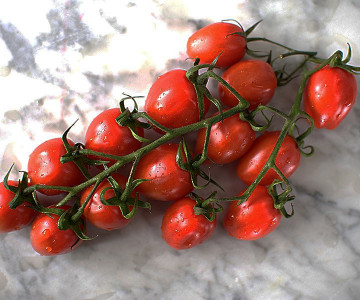 You say Tomato, we say British Tomato Week!
Next week is British Tomato Week and we're gearing up to celebrate this humble fruit. To mark the occasion, we're going to be finding out more about this versatile ingredient and what makes it the most popular fruit in the world, with an incredible 170 million tonnes produced across the globe on a yearly basis.

Tomato History & Facts
Tomatoes come from the Americas and the earliest record of them can be traced back to the Aztecs in around 700 AD. It was the Europeans that travelled across the Atlantic that introduced them to Britain and other European nations. It was quickly accepted as a firm favourite in Southern Italy, however the tomato was met with a great deal of suspicion in Britain; at first, many thought it was poisonous!
·        The largest ever tomato grown was recorded in 2016 and weighed just under 4kg (3.96kg) in Washington state, USA.
·        Tomatoes are rich in lycopene, an antioxidant which helps protect the heart.
·        La Tomatina takes place every year in the Spanish town of Buñol, where an amazing 40,000 participants take place in a giant tomato fight – covering the town in tomato pulp!
·        There are more than 20,000 different varieties of tomatoes grown across the world.
Tomato Recipes
The tomato is incredibly versatile and is used in thousands of different recipes. We've included a more traditional recipe along with one that might surprise you.
·        This smoky tomato sauce goes incredibly well with all kinds of pasta and meat. The tomatoes are gently roasted at first to give them a smoky edge.
·        These sweet tomato turnovers are a dessert with a difference. You might be apprehensive about trying them at first but once you've tried them, you'll view tomatoes in a whole new light! You can have extra fun with friends and family by getting them to guess the filling.
If you're looking to stock up on tomatoes, you're in the right place. As part of our #BestOfLocal range, we've got market fresh tomatoes – locally sourced from Smithfield Market in Manchester. Click here to view our full fruit and veg offering.
Share This
Related Posts