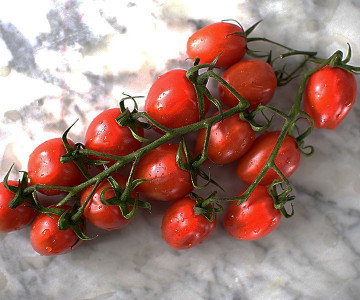 Ketchup with the latest! It's British Tomato Week
This week is a celebration of one of Britain's favourites, the tomato! British Tomato Week is about championing British tomato growers, and it marks the start of the British tomato season. In this week's blog post we'll be looking at some fun facts, as well as delicious recipes to cook up with your tomatoes.
Tomatoes: A History
The word 'tomato' comes from the Spanish tomate, which means 'swelling fruit'. A common misconception is that tomatoes are vegetables - this isn't the case!
Tomatoes have been used in cooking since Aztec times, and by 500 BC were being cultivated in Mexico. Native to South America, Spanish explorer Hernan Cortés was probably the first to introduce the fruit to his continent. Europeans were originally suspicious of this vivid, shiny fruit, believing it to be poisonous. However, their popularity grew, and the first known tomato recipe cookbook was published in Naples in 1692!
So why do some believe that tomatoes are a vegetable? This can be traced back to a US Supreme Court decision in 1893. In 1883, the US established a tax on imported vegetables – but not fruits. When tomato importer John Nix realised that his taxed produce was botanically defined as a fruit, he decided to fight his corner! However, the court used culinary logic to rule that, as they were usually eaten with dinner, not dessert, they would continue to be known as vegetables.
Ready, steady, cook!
As part of our Best of Local range, we have a selection of tomatoes, picked fresh from Manchester's Smithfield Market. Try these classic salad tomatoes, sweet cherry tomatoes, or vine tomatoes. Used raw, these make wonderful additions to a fresh summer salad, but also add delicious flavour to these recipes:
·        Spanish Ole! Omelette – perfect for when you need food in a hurry, this is a great way to enjoy tomatoes.
·        Spaghetti with fresh tomato sauce – a classic way to use your tomatoes, the sauce in this recipe is raw, making the dish extra-fresh.
·        Tomato tarts – a tasty way to use cherry tomatoes, this recipe is ideal for a meat-free day.
Share This
Related Posts