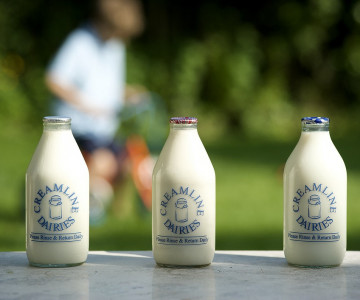 World School Milk Day Celebrations
It's always a firm favourite in the Creamline diary, with the 28th September marking the 17th annual World School Milk Day – helping highlight the importance of drinking milk at school, to children.
How to get involved  
Now celebrated in over 30 different countries, school children across the globe will be marking the day with fun and memorable activities, whether that's paying a visit to a local dairy farm, finding out how milk makes its way to the breakfast table or discovering fun facts about the cows.
This year, World School Milk Day celebrations in England are more important than ever, with the School Food Standards stipulating that "Lower fat milk or lactose-reduced milk must be available for drinking at least once per day, during school hours" – showing just how important it is that little ones drink their daily dose of milk.
Every Day is a Milk Day for Creamline!
Last year saw us visit primary schools across Greater Manchester, with our 'Meet the Milkman' presentation – helping children find out more about where Creamline's milk comes from and the Cheshire farmers that Creamline works closely with.
At each school visit we showed the children a Creamline clip, with Channel 5's Milkshake presenter Olivia Birchenough paying a visit to Farmer Tom and meeting Myrtle. If your child hasn't watched the video yet, then they can catch up on all the fun here:
It's always a great hit with pupils, just like the free mini milk bottles we hand out too – giving the children a taste of fresh, cold Creamline milk.
With children all back at school after the summer break, we're also gearing up for another Creamline roadshow, this time talking about the importance of fruit and veg.  First up on our school roadshow is Warrington, so if you've got children that attend school in that area, keep your eyes peeled as we might be paying them a visit!
Creamline school posters – showcasing the fabulous designs
To celebrate this year's World School Milk Day, we'll be showcasing some of the fabulous 'Design a poster' competition entries, received by school children over the last year – so keep your eyes peeled on Creamline's social media pages, to see if you can spot a familiar design. 
Share This
Related Posts