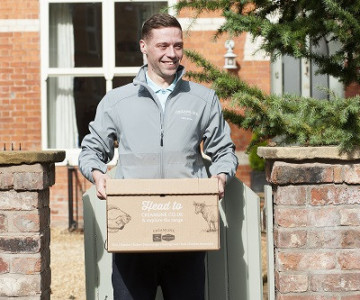 World Apple Day Lands
World Apple Day falls on 21st October and as the name suggests, it's a celebration of all things apple.  First celebrated in 1990, this calendar date was created to celebrate the richness and diversity of apple-growing, both in the UK and internationally. It shines a light on everything related to apples – whether that's the whole fruit, chutneys and jams or even cider manufacture.
Don't get Pipped to the Post: Apple Facts
Prepare for World Apple Day by arming yourself with some core apple knowledge. We've got loads of fascinating apple facts, so read on:
·         As the saying goes, "an apple a day keeps the doctor away" but you might be hard pressed to finish this monster… Chisato Iwasaki grew this enormous 1.849kg apple at his farm in Hirosaki, Japan.
·         The apple is very significant in culture and religion. All of the three main Abrahamic religions (Christianity, Judaism and Islam) say that Adam and Eve were the first people to inhabit earth and that they ate an apple, which God had specifically instructed them not to.
·         The term Adam's Apple is often used to describe the prominent lump in a man's throat (medically known as the larynx): it gets its name because after Adam is said to have eaten the forbidden apple, a lump of it became stuck in his throat.
·         There are an incredible 7,500 types of apple grown around the world. If you tried to eat a different variety every day, it'd take you twenty and a half years!
Let's Get Cooking
Whilst apples are great by themselves, they're also fun to cook with. We've recently uploaded a video to our YouTube account of our friendly chef Nigel Brown showing you how to make an apple roly poly with custard. This fabulous British hot pudding recipe will leave you feeling warm and cosy; perfect as the nights draw in and the temperature drops.
Share This
Related Posts