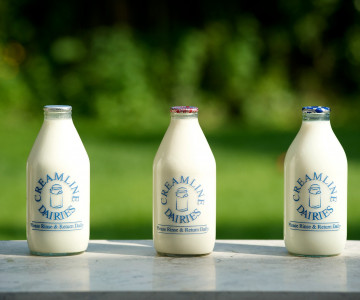 Happy World Milk Day to our customers, team and farmers
Today is 1st June and as all our dedicated milk-loving customers will know, that only means one thing: it's World Milk Day!
Twenty years ago, World Milk Day was established by the Food and Agriculture Organisation of the United Nations to recognise the importance of milk as a global food and to celebrate all things dairy. Last year an incredible 428 events across 68 countries were held to mark the occasion and while 2020's celebrations will look very different due to the coronavirus pandemic, organisers are encouraging people around the world to share their love for milk on social media using #WorldMilkDay and #EnjoyDairy
Here at Creamline, we've been sharing our love for milk with our local community since 1945. Making deliveries to Manchester doorsteps is something we've been doing for 75 years, but its incredible to think that around the world, the dairy industry supports the livelihoods of one billion people!
For us at Creamline though, there's nothing like local and this World Milk Day we're thinking about our wonderful team of dedicated Cheshire farmers who work every day of the year to make sure we can keep our customers stocked up with fresh, local milk.
Joy and Andrew Wright have been working with Creamline for six years and their 275-acre farm set in beautiful East Cheshire countryside produces almost 5,000 litres of milk each week.
"It's a great feeling knowing that the milk we produce is actually used by local people, rather than travelling across the country", explains Andrew, "I'm proud of my cows and how we help contribute to feed the nation."
We wish Joy and Andrew, and the rest of our trusted team of Cheshire farmers a very happy World Milk Day from everyone at Creamline.
Share This
Related Posts